YouTube on Google = IE on Windows?
Public advocate and longtime Google critic Consumer Watchdog has issued a report [1] alleging that the web giant may have used its search monopoly to illegally drive traffic to its own services.
Citing three years of web data from research outfit Hitwise, the report claims that Google significantly increased its share of three separate online markets after rolling out its so-called Universal Search setup, which inserts links from other Google services into prominent positions on the company's search results pages. Most notably, the report says, after launching Universal Search in 2007, Google doubled its share of the online video market.
Google did not immediately respond to a request for comment. According to some estimates [2], the company controls as much as 85 per cent of the global search market.
The report also claims that Google made similar leaps in the online mapping and price comparison markets. Consumer Watchdog's John Simpson singles out the rise of Google Maps at the expense of Mapquest, the former market leader. "One of the things that really struck us was what happened with Mapquest. When Google Maps started to get high priority — bam! — Mapquest just crumbled," Simpson tells The Reg. "And we see a similar situation with video."
It should be noted, however, that unlike with Google Maps, YouTube was already the market leader when Universal Search debuted. But in the last three years, according to Consumer Watchdog's data, YouTube's share climbed from just under 40 per cent to just under 80 per cent.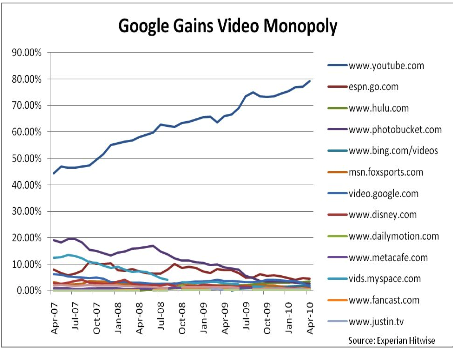 YouTube video traffic share since 2007 (source: Consumer Watchdog and Hitwise)
This is share by traffic, and it should also be noted that a separate report from comScore puts YouTube's share of video views at about 43 per cent.
Consumer Watchdog intends to share its report with regulators in the US and the EU. "We're in the process," Simpson says. The report was sparked by a recent EU antitrust complaint filed against Google by UK-based price comparison site Foundem. In its complaint, filed in late February, Foundem makes similar accusations [3] of monopoly abuse. The complaint is under seal, but the portion related to Google's Universal Search was echoed in filing with the US Federal Communications Commission.
"Universal Search transforms Google's ostensibly neutral search engine into an immensely powerful marketing channel for Google's other services," the FCC filing reads.
"[It] allows Google to leverage its search engine monopoly into virtually any field it chooses. Wherever it does so, competitors will be harmed, new entrants will be discouraged, and innovation will inevitably be suppressed."
The filing accused Google of illegally harming competitors in the online mapping and price comparison markets, hinting the practice was akin to Microsoft abusing its operating system monopoly in bundling applications with Windows. With its report — released today — Consumer Watchdog has expanded on the scope of the filing to include video as well.
According to Consumer Watchdog's numbers, since the advent of Universal Search, Google's share of the online mapping market has jumped from about 17 per cent to 51 per cent, while Mapquest's share has dropped from 57.24 per cent to 32 per cent. And it cites the same numbers as Foundem in showing Google's share of the price comparison market climbing at the expense of competitors. From November 2007 to December 2009, according to the data, Google's Product Search service — formerly Froogle — leapt from 1.3 million users to more than 20 million.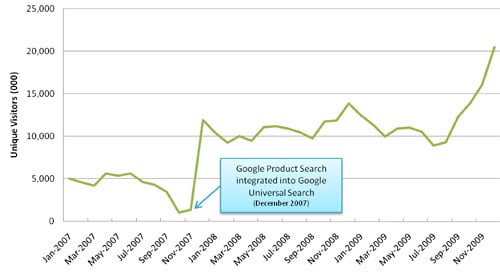 Unique monthly US visitors to Google Product Search, January 2007 – November 2009 (source: comScore)
Google Product Search, however, still trails Shopzilla, which boasts 21 million uniques, according to Consumer Watchdog's numbers.
Consumer Watchdog stresses that its data does not necessarily show that Google's rise in the video, mapping, and price comparison markets was caused by Universal Search. It merely points out that the company's rise in the markets began around the same time as the debut of the search setup.
"Google would say 'Gol-lee, this all happened because our products are so much better,'" Simpson tells us. "But we are saying 'Gol-lee, in 2007, they made this change with Universal Search and there products got advantaged in the results and that's when the traffic started to climb. We think there's an interesting correlation there that needs further study."